[Sector 1]
Tower of Zeno
Citadel
Arched niches church
Barracks
City gates
Crypts
Southeastern line of defense

[Sector 2]
The Church of Saint Volodymyr
Ancient square
Main street
House of the 4th - 3rd cc. BC
Eastern basilica
Cave church
Uvarov basilica
Baptistery
Sixbased church
Northern basilica
Bell
Hostel
Hospice
Residential block and chapel
Kruze basilica
Artillery battery
Church in block 7

[Sector 3]
Theater
City cistern complex
Fourapsed church
Western line of defense
Mint
Reliquary church
Fiveapsed church

[Sector 4]
House with winepress
Fishsalting cisterns
1935 basilica
1932 basilica
Basilica in the basilica
Arched church
Basilica on the hill
Western basilica
Defensive moat and gate
Residential blocks
Necropolis of the first cc. AD


Basilica in the basilica


Unfortunately, this once magnificent structure is today in a state of very poor conservation. No restoration work after the excavations of 1984 was ever organized. The structure is located on the hill in the western area of Chersonesos not far from the western basilica. The site's relatively distant location from the usual route of guided tours has resulted in the almost complete disrepair of the remains of the church.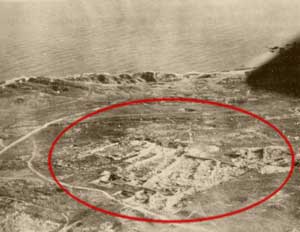 The building complex of the Basilica on the Hill.
Aerial view


The site was discovered in 1890 during excavations by K. K. Kostsyushko-Valuzhinich. In 1973-1984 S. A. Belyaev led additional excavations in the basilica and established that the 10th century church discovered by Kosciuszko-Valuzhinich was built on the ruins of an earlier, larger basilica, second only to the Uvarov Basilica. In turn, this earlier basilica had been constructed on the site of a manufacturing complex: a potter's kiln.
The later basilica comprised a three-naved plan divided by two rows of four columns each. There were two vestibules - the narthex and exonarthex. The floors were decorated with mosaics. Near the basilica were some buildings used both for dwelling and business.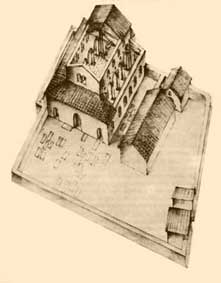 The Basilica on the Hill.
A reconstruction by S. A. Belyaev


There were approximately 150 burials in and around the church. S. A. Belyaev conjectured that some of these burials contained the remains of Rus' warriors and Vikings belonging to Prince Volodymyr's retinue who perished during the siege of Cherson. All the buildings together with the basilica and the graves were surrounded by a stone fence.
S. A. Belyaev suggested that the Basilica on the Hill was in fact the "church on the mountain in Korsun'" which, according to chronicles, was built by Prince Volodymyr in commemoration of his baptism.