[Sector 1]
Tower of Zeno
Citadel
Arched niches church
Barracks
City gates
Crypts
Southeastern line of defense

[Sector 2]
The Church of Saint Volodymyr
Ancient square
Main street
House of the 4th - 3rd cc. BC
Eastern basilica
Cave church
Uvarov basilica
Baptistery
Sixbased church
Northern basilica
Bell
Hostel
Hospice
Residential block and chapel
Kruze basilica
Artillery battery
Church in block 7

[Sector 3]
Theater
City cistern complex
Fourapsed church
Western line of defense
Mint
Reliquary church
Fiveapsed church

[Sector 4]
House with winepress
Fishsalting cisterns
1935 basilica
1932 basilica
Basilica in the basilica
Arched church
Basilica on the hill
Western basilica
Defensive moat and gate
Residential blocks
Necropolis of the first cc. AD


Crypts


In the peribolos, to the left of the city gates, there are two crypts dating to the first centuries AD. They were built alongside the defensive wall. From inside each construction resembles a house with a gable roof. Along the perimeter of its walls were niches where urns containing buried remains were placed.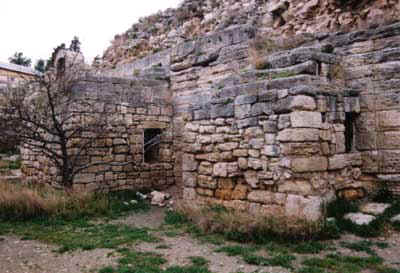 Crypts at the defensive wall. Modern view.



In the same area at the defensive wall lay a family grave from the 4th and 3rd centuries BC. Six bronze and black-lacquered ceramic urns were found inside this T-shaped grave.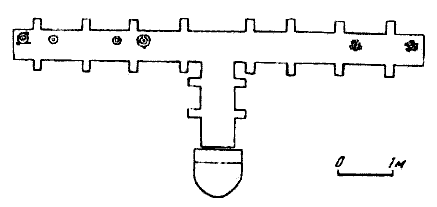 Plan of the T-shaped grave.


An inscription reading "a prize from the celebration of Anakios" has been preserved on one urn. This prize was received by the winner of sporting competitions held near Athens. A patron of the city walls of Chersonesos was probably buried in this crypt because it was contemporary with the construction of the walls. Two urns contained magnificent samples of ancient fine arts, and rich gold decorations: earrings, necklaces, bracelets. It was precisely these early-20th century finds which resulted in the nickname then given to Chersonesos - "Russian Troy." Consequently, the budget for excavations increased threefold.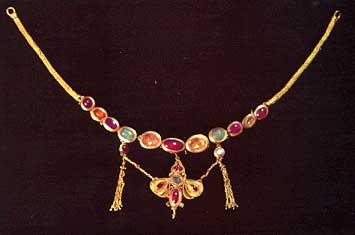 Necklace of the 1st - 2nd centuries AD. Found by K. K. Kostsyushko-Valuzhinich.


Russian Emperor Nicholas II visited the ruins of Chersonesos more than once. A photograph of the czar and his retinue was taken during their visit to one of the crypts at the defensive wall, but publication of this picture was prohibited at the time because the sovereign was captured bending as he exited one of the crypts.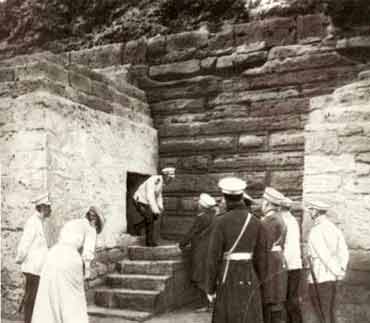 Russian Emperor Nicholas II viewing the Chersonesan crypts