[Sector 1]
Tower of Zeno
Citadel
Arched niches church
Barracks
City gates
Crypts
Southeastern line of defense

[Sector 2]
The Church of Saint Volodymyr
Ancient square
Main street
House of the 4th - 3rd cc. BC
Eastern basilica
Cave church
Uvarov basilica
Baptistery
Sixbased church
Northern basilica
Bell
Hostel
Hospice
Residential block and chapel
Kruze basilica
Artillery battery
Church in block 7

[Sector 3]
Theater
City cistern complex
Fourapsed church
Western line of defense
Mint
Reliquary church
Fiveapsed church

[Sector 4]
House with winepress
Fishsalting cisterns
1935 basilica
1932 basilica
Basilica in the basilica
Arched church
Basilica on the hill
Western basilica
Defensive moat and gate
Residential blocks
Necropolis of the first cc. AD


Basilica in the basilica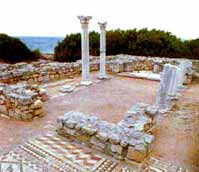 The combination of white columns and polychrome mosaics amidst dark green bushes makes the Basilica within a Basilica one of the most striking monuments in Chersonesos. Its designated name reflects an interesting architectural pattern: here one can view two buildings, in inside the other, which functioned in various periods.
The complex was discovered in 1889 during excavations by K. K. Kostsyushko-Valuzhinich. It consists of two three-naved basilicas belonging to different times: the earlier, larger church was constructed in the 6th century; the second, built in the late 10th century, was so compact that it fit entirely within the central nave of the first church. The marble details of the earlier church were used in the construction of the later basilica.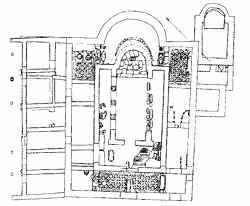 The Plan of the Two Basilicas


The floor of the 6th century basilica was covered with mosaics featuring simple geometric ornament and more complex Christian symbols. The mosaic designs of the vestibule, or narthex, and eastern extensions of the aisles consist of interlocking red circles against a white background.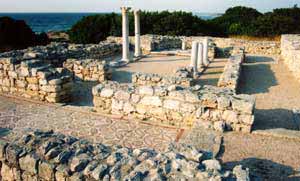 The mosaics in the nave portray a more complicated picture. Apart from the geometric lines are Christian symbols depicting birds, circles, etc. Fragments of two lines of an ancient Greek inscription (presumably "Let God bless each brief") are preserved near the door. Nearby are pictures of a chalice, the symbol of the Eucharist, and a circle within a rhomb, the symbol of eternity.
| | | |
| --- | --- | --- |
| | | In the north room/baptistery lay a mosaic of a peacock, the symbol of resurrection; its outstretched tail symbolized the starry sky; pigeons symbolized the Holy Spirit; and an anchor was a symbol of one of the three most important Christian virtues, hope. |
The mosaics were made of small pebbles of marble, colored limestone, ceramic, and smalt. The majority of the mosaics were damaged during the construction of the later basilica. The floor of the sanctuary was paved with marble. The altar was made from the top portion of a column including its capital from the earlier church and placed on the new marble floor. A small burial chapel was constructed to the south of the sanctuary of the later basilica, and an open gallery was built to the north of the earlier basilica. At present, only the side walls and column bases remain from this gallery. At the end of the 13th century the small basilica collapsed during a fire.
| | | |
| --- | --- | --- |
| 1971: Restoration of the Complex | | |
In 1971-1974 S. G. Ryzhov led further investigations and restoration at the site. Mosaics were reinforced by new mortars.