[Sector 1]
Tower of Zeno
Citadel
Arched niches church
Barracks
City gates
Crypts
Southeastern line of defense

[Sector 2]
The Church of Saint Volodymyr
Ancient square
Main street
House of the 4th - 3rd cc. BC
Eastern basilica
Cave church
Uvarov basilica
Baptistery
Sixbased church
Northern basilica
Bell
Hostel
Hospice
Residential block and chapel
Kruze basilica
Artillery battery
Church in block 7

[Sector 3]
Theater
City cistern complex
Fourapsed church
Western line of defense
Mint
Reliquary church
Fiveapsed church

[Sector 4]
House with winepress
Fishsalting cisterns
1935 basilica
1932 basilica
Basilica in the basilica
Arched church
Basilica on the hill
Western basilica
Defensive moat and gate
Residential blocks
Necropolis of the first cc. AD


Arched niches church


A medieval residential block was excavated at the city gates of the 4th-3rd centuries BC. Under the medieval houses, at a depth of two to three meters, lay the remains of earlier buildings. This block contained two-storied houses, the rooms of which were situated around enclosed courtyards. The walls of the houses were made of rubble fastened with mud. A system of gutters connected the houses with the wide streets.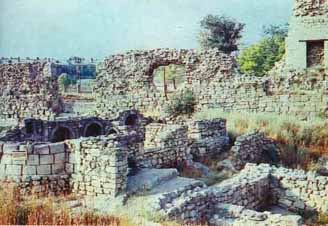 The arched niches church


In the 11th century or somewhat later two ancient blocks were united into one, a square was built in the middle of the new configuration, and a small church was erected in the middle of the square. Graves were fitted into the walls of the church, and arched niches were arranged above these graves to provide light into the building. The entrance to the church led from the square at the northern side of the building. A transverse street led to this area and connected the block with the downtown district. The arched niches church was demolished in the 13th or 14th century.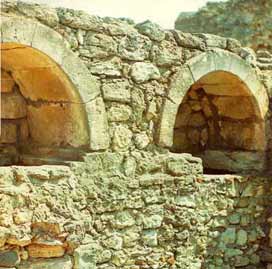 The arched niches