[Sector 1]
Tower of Zeno
Citadel
Arched niches church
Barracks
City gates
Crypts
Southeastern line of defense

[Sector 2]
The Church of Saint Volodymyr
Ancient square
Main street
House of the 4th - 3rd cc. BC
Eastern basilica
Cave church
Uvarov basilica
Baptistery
Sixbased church
Northern basilica
Bell
Hostel
Hospice
Residential block and chapel
Kruze basilica
Artillery battery
Church in block 7

[Sector 3]
Theater
City cistern complex
Fourapsed church
Western line of defense
Mint
Reliquary church
Fiveapsed church

[Sector 4]
House with winepress
Fishsalting cisterns
1935 basilica
1932 basilica
Basilica in the basilica
Arched church
Basilica on the hill
Western basilica
Defensive moat and gate
Residential blocks
Necropolis of the first cc. AD


Ancient Square


A city square was located approximately in the central part of the main street in ancient Chersonesos. The Chersonesites laid the foundation of this square during the initial planning of the city. It continued to be the central square even after the territory of the city was widened. Considering the archaeological finds that have been discovered in this area one can assume that sacred objects and structures, such as statues of deities, inscriptions, decrees, altars, and temples were situated here in antiquity. Perhaps the most important monument of Chersonesos, the inscribed oath, taken by young men who came of age, was excavated in the main square. Inscriptions on marble stelai reveal that here stood temples dedicated to Dionysos, Athena, Aphrodite. The main temple of Chersonesos devoted to its patroness, the Maiden, was probably located in the main square of the city.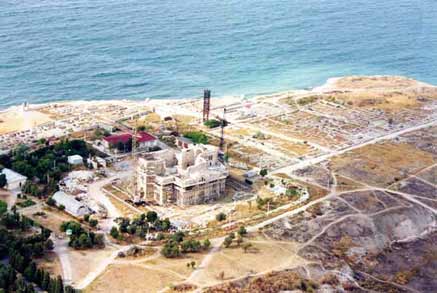 An Ancient Square from the air


With the advent of Christianity all cult buildings of the ancient period were either renovated or destroyed. Consequently, the square acquired a new outer appearance in the 9th and 10th centuries. Seven churches were erected; the remains of two of these can be viewed to the south of the modern Church of St. Volodymyr. One is a basilica of the 6th (?) century with a preserved sanctuary and a nave with a fragmentary marble floor. Only the apse remains of the other - a cruci-domed church dating to the 9th or 10th centuries.


In the mid-19th century construction of the Church of St. Volodymyr prevented any further investigation of the main square. Today the presence of the church hinders one from imagining that here the main square of the ancient city was once located.