[Sector 1]
Tower of Zeno
Citadel
Arched niches church
Barracks
City gates
Crypts
Southeastern line of defense

[Sector 2]
The Church of Saint Volodymyr
Ancient square
Main street
House of the 4th - 3rd cc. BC
Eastern basilica
Cave church
Uvarov basilica
Baptistery
Sixbased church
Northern basilica
Bell
Hostel
Hospice
Residential block and chapel
Kruze basilica
Artillery battery
Church in block 7

[Sector 3]
Theater
City cistern complex
Fourapsed church
Western line of defense
Mint
Reliquary church
Fiveapsed church

[Sector 4]
House with winepress
Fishsalting cisterns
1935 basilica
1932 basilica
Basilica in the basilica
Arched church
Basilica on the hill
Western basilica
Defensive moat and gate
Residential blocks
Necropolis of the first cc. AD


Citadel


In the 2nd century BC the territory of the port at Chersonesos was enlarged to include a part of the shore southward from the 16th tower. A new wall constructed to protect this area ended with tower no. 17, also called the Tower of Zeno. The old defensive line, now inside the city, was also preserved. Thus, the new area was surrounded with walls and towers from every side. Scholars use an artificial term - citadel - to indicate this new structure. In the first centuries AD Roman legionnaires were garrisoned here. They could move to the citadel from the peribolos through an arch-vaulted wicket. Above this construction exists the threshold of a medieval wicket dating to the 9th-10th centuries. If one looks at the masonry of the 16th tower from the citadel, one can see the architectural details of buildings of the 3rd and 2nd centuries BC in it.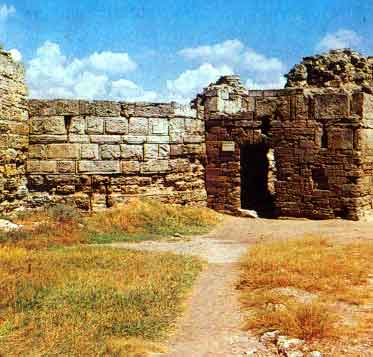 The entrance to the citadel from the peribolos


Narrow streets with gutters, water pipes, and buildings from the 2nd to the 4th centuries AD have been excavated inside the citadel. To the south of the defensive wall and extending to the sea was a monumental building with three rooms covering an area of more than 600 m2. The middle room was the largest; narrow side rooms were divided into smaller chambers with entrances into the central hall. This building is supposed to be the Roman praitorion, that is, the residence of the military commander.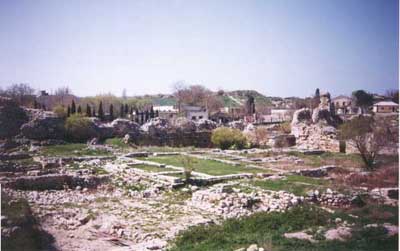 The northwestern view of the citadel


Behind this structure were Roman termae (baths) from the 2nd-4th centuries, five rooms of which are visible today. There were ovens for heating air and water in three of them. Hot air passed through pipes under the floor of the rooms, thus heating them to the necessary degree. Investigations of the termae are still underway.