[Sector 1]
Tower of Zeno
Citadel
Arched niches church
Barracks
City gates
Crypts
Southeastern line of defense

[Sector 2]
The Church of Saint Volodymyr
Ancient square
Main street
House of the 4th - 3rd cc. BC
Eastern basilica
Cave church
Uvarov basilica
Baptistery
Sixbased church
Northern basilica
Bell
Hostel
Hospice
Residential block and chapel
Kruze basilica
Artillery battery
Church in block 7

[Sector 3]
Theater
City cistern complex
Fourapsed church
Western line of defense
Mint
Reliquary church
Fiveapsed church

[Sector 4]
House with winepress
Fishsalting cisterns
1935 basilica
1932 basilica
Basilica in the basilica
Arched church
Basilica on the hill
Western basilica
Defensive moat and gate
Residential blocks
Necropolis of the first cc. AD


City Gates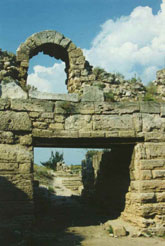 The Gates. View from the peribolos


These ancient gates were made in the thickness of the defensive wall in the 4th-3rd centuries BC. The gates are 3.8 meters wide and 8.4 meters long. The length of the gates was enlarged by means of side pylons, special projections perpendicular to the defensive wall. On the southern pylon one can see steps leading to the upper platform of the pylon and from there to the wall.

| | | |
| --- | --- | --- |
| The southern pylon and steps of the gates | | There is a hole for the beam locking the ranges of the gates in the same pylon. At the very entrance to the tower on each side of the wall there is a vertical groove for raising and pulling down a metal grate (cataract). The space between the cataract and the ranges of the gates could have been filled up with stones and earth, if necessary. In the 1st century AD the gates were blocked up, and the entrance to the city moved to the west from the theater. |
The wicket above the gates dates to the medieval period (9th-10th centuries). It was built when the ancient wall at this site was deep in the ground. From that moment, builders used the ancient wall as a foundation for medieval fortifications.
This part of the ancient walls was excavated in 1899. In 1902 it was visited by Emperor Nicholas II and Alexandra Fedorovna. The imperial couple was guided by K. K. Kosciuszko-Valuzhinich.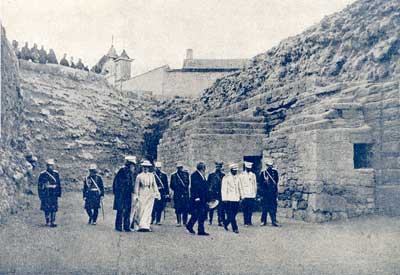 "... Their Imperial Majesties were pleased to hear detailed explanations graciously, and were pleased to stay at the gates for most of the time..."