Decree honoring Gaius Julius Satyrus
Description by Solominik, commentary by Mikhail Ivanovich Rostovtsev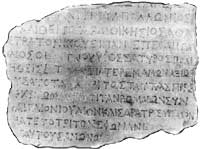 This fragment of white marble slab was found in 1911 in the north-east area of the ancient city and dated to 40s B.C.
It is the beginning of a honorific decree for Gaius Julius Satyrus who was sent in embassy to Gaius Julius Caesars in Rome. Misfortunately, one can only make hypotheses about the goals of his embassy, because they were stated lower, in the part of the slab which is missing now; these goals were most likely related to the ask of receiving 'free city' status for Chersonesos.

Commentary:


[Under construction]
Translation by © N. Khrapunov.