Epitaph in verse on the stele set up by doctor
Original publication and commentary by Solomonik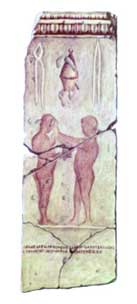 This limestone stele is broken into six fragments. Under the cornice, medical instruments are represented in paints: forceps, cupping glass, and pincers); below are two male figures, with inscription in verse under them. The monument was excavated in 1969 from the stonework of defensive walls.
Dated to the late 4th or early 3rd century B.C.

Text:

"This tomb honors Leschanoridas
from Eukles, doctor, who gave birth to him, of Tenedos".



Commentary:
In the same place, another stele was found, for a doctor, of the same period, with badly preserved image of medical instruments and short inscription under cornice: "Dionysios son of Pantagnotos".

Tenedos is an island in the Aegean Sea, at the shores of Troad (at present it is a possession of Turkey).



Translation by © N. Khrapunov.