Inscription regarding the liberation of Kalos Limen
Original publication and commentary by Solomonik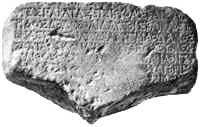 This fragment of white marble slab was discovered, by accident, in 1898 and dated to the late 2nd century B. C.

Commentary:
This honorific decree is related to the events of the wars of Diophantos. Although its text is considerably corrupted, one can infer that a certain troop of Chersonesos army liberated Kalos Limen (Greek for "Beautiful Harbor"), which had been occupied by the Scythians, and returned it under the power of Chersonesos state.



Translation by © N. Khrapunov.