In Antiquity

In the Middle Ages

Near Outlying Areas

The Monastery of the Mother of God of Blachernai
Monastery in Sarandinakina balka
Zefir-Koba monastery
Monastic complex at cape Vinogradnyy
Caves near Skala Svyatogo Yavleniya
Fortress of Cembalo
Cave town of Kalamita or Inkerman
Syuyren' fortress
Monastery on the island in Kazach'ya bay

Far Outlying Areas
Near outlying areas
The history and archaeology of medieval Chersonesos, or Cherson as it was called during this period, do not restrict to the area within this city walls. Moreover, the case of medieval Cherson as a monument of history and archaeology allows one a unique opportunity to study a Byzantine city together with its close neighborhood. The Byzantine Cherson got such an area at the Gerakleiskiy (Russian for "Herakleian") peninsula, which now made the most part of present Sevastopol city area.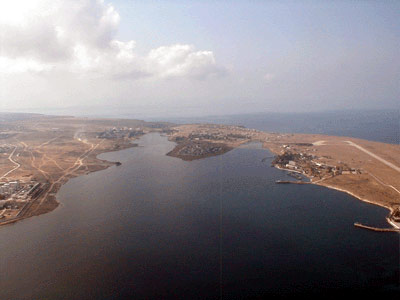 Cherson was inseparably related to its close neighborhood as early as from the 4th century B.C., when, after the foundation of the polis, the most part of the Gerakleyskiy peninsula was divided into plots and covered with a grid of longitudinal and transverse roads, stone fences, vineyards, and farming estates. Medieval neighborhood inherited the ancient system of roads, part of the division walls, and, in some cases, the buildings themselves (for example, the towers) and their location. According to archaeological evidence, a great deal of medieval houses was built at the sites of the extramural estates of Classical period.
Although the ancient chora of Chersonesos has been investigated rather comprehensively, the organization of the city's close neighborhood in medieval period remains terra incognita in many respects, though the scholars have already made few steps in this direction. Archaeologists have succeeded in discovering medieval farmsteads, villages, and monasteries.



© T. Yashaeva